What Is a Bed Frame?
A bed frame is one of the most important pieces of furniture in any home, providing a sturdy base for your mattress and box spring to rest on. It supports the weight of both you and your bedding and ensures that everything stays in place.
Bed frames come in all shapes, sizes, and materials to cater to specific needs, from wood or steel frames for stability to upholstered options for comfort and style. Whether your bedroom has limited space or you desire a luxury look, there is sure to be a bed frame with the perfect combination of sturdiness and beauty.
Common Bed Frame Materials in Malaysia
In Malaysia, common bed frame materials include wood, metal, and upholstered frames.
Metal bed frames are known for their strength and modern look. They can be made of different metals, including iron, brass, or steel, and are often painted or powder-coated to give a sleek and smooth finish.
Wooden bed frames are popular for their natural warmth and durability. They come in various kinds of wood, such as teak, oak, and mahogany, and are often finished with a stain or varnish to protect the wood and enhance its natural beauty.
Upholstery bed frames are covered in fabric or leather and are known for their comfort and versatility. The material used can vary from linen to velvet, while leather is often used for a more luxurious look. These bed frames may also have padding for added comfort.
Standard Bed Frame Sizes in Malaysia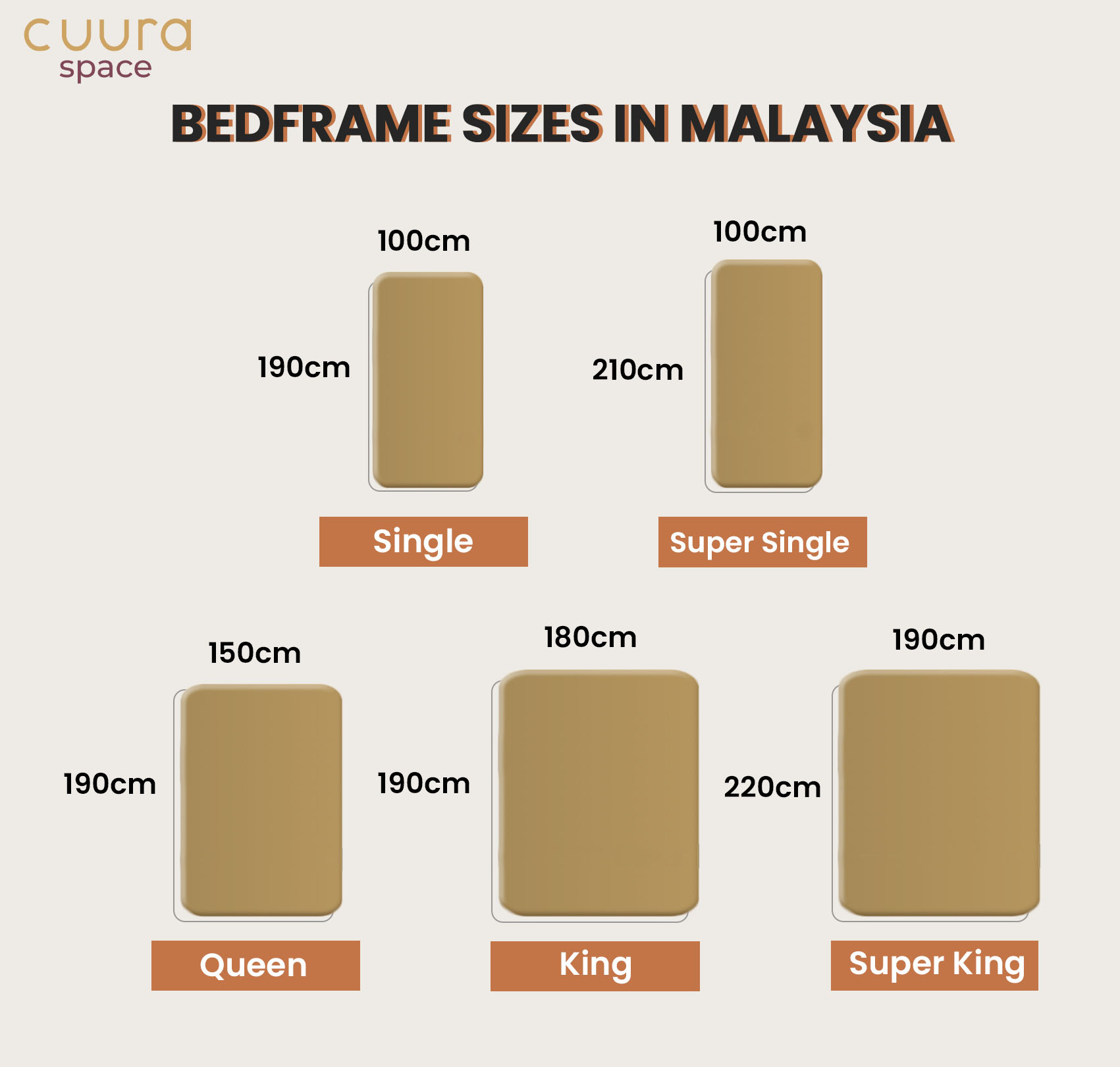 The standard bed frame sizes commonly found in Malaysia are as follows:
Single, measuring 100 x 190 cm, is suitable for one person and works well in smaller bedrooms or guest rooms.

Super Single, with dimensions of 100 x 210 cm, offers a bit more space for those who prefer a little extra room to stretch out.

The Queen size bed frame, measuring 150 x 190 cm, is a popular choice for couples or individuals who desire more sleeping space.

For those who prefer even more room, the King size bed frame, measuring 180 x 190 cm, provides ample space for couples to comfortably sleep and move around.

Finally, the Super King size, measuring 190 x 220 cm, offers the ultimate indulgence in luxurious sleeping quarters.
Keep in mind that these sizes may vary slightly depending on the manufacturer, so it's always a good idea to double-check the measurements before making a purchase.
What's the Use of a Bed Frame?
How a bed frame looks, for example, has a significant impact on the overall vibe of a bedroom. It functions as more than just something to sleep on; it serves as a conversational piece and focal point.
Whether you prefer a modern or classic design, it can tie your existing decor together and bring unity to the room.
Ensuring your mattress has the proper support is essential for a restful and comfortable night's sleep. For this reason, bed frames and box springs are created to hold up the mattress and evenly distribute weight, preventing uncomfortable sagging.
A supportive structure helps maintain your mattress shape and health - ensuring that you can lay back and enjoy blissful slumbers without being disturbed by aches and pains.
Saving space in a room can be quite a challenge, but with the help of a bed frame, you can make the most out of every inch. Not only do bed frames allow for comfortable sleep heights and promote better sleeping postures, but they also provide an ideal way to optimise storage.
From rolling under-bed drawers to removable dividers, bed frames offer creative solutions for increased storage that will stay in the style of your space.
Types of CUURA Bed Frames
With so many bed frame options available, how do you select the right one? That's why we create this guide to help you with everything you need about bed frames.
1. Platform Bed Frame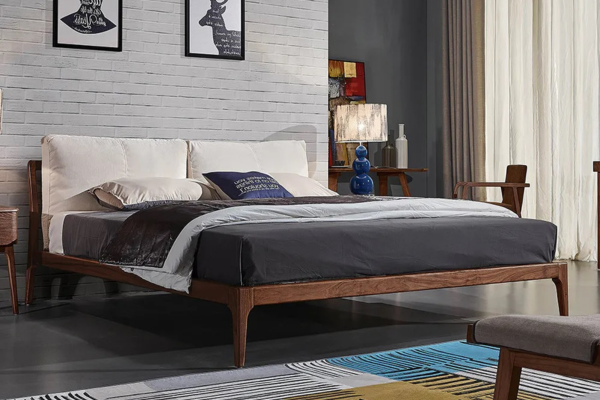 A platform bed is ideal for a minimalist-style bedroom, offering a modern upgrade on traditional frame designs. This variation of the classic frame stands on four legs that keep it elevated from the ground. This innovation looks like suspended midair, giving your entire room a sleek, contemporary feel.
2. Futon Bed Frame
The futon bed originated in Japan, which was quite different from what we are used to now. The original futon was just a mat-like mattress placed directly on the floor, giving the appearance of an elevated platform without any frame present.
However, as the idea spread throughout other cultures, the bed radically transformed. It began to take on its modern form, which typically includes a frame that elevates your mattress slightly higher than the ground.
3. Divan Bed Frame
A divan bed frame is a type of bed frame that typically features a rectangular shape with low sides and no footboard. It is slightly raised off the floor for comfort and is often accompanied by a mattress and box spring.
A Divan bed frame is ideal for those seeking adjustable sleeping positions, as they can be outfitted with unique headboards, footboards, and even drawers beneath the mattress to store bedroom essentials.
4. Day Bed Frame
Adding a day bed to your room is a great way to maximise available space. It can double as a sofa during the day and be transformed into a comfortable bed at night, allowing you to make the most of every inch of your room.
The perfect blend of function and comfort, a day bed frame is an ideal bedroom solution that easily adapts to serve its purpose. Best of all, there are so many designs to choose from, making it easy to find one that perfectly matches your style and décor.
5. Mid-Century Modern Bed Frame

Kokall Bed Frame Queen Size Bed Frame
If you want to jazz up your bedroom with a timeless piece of furniture, a mid-century frame is a perfect option. A sophisticated choice that is sure to make an impression, its simple design elevates any look in your home.
Crafted with polished wood, it brings out the natural grain and warmth of the material, while its elegant finish guarantees longevity. With its charm and style, a mid-century frame is an easy way to make an impactful statement in your bedroom.
6. Floating Bed Frame
Well-designed and expertly crafted, a floating bed frame is a modern-day marvel that elevates the look of any bedroom. This contemporary approach to bed frames eliminates the need for support legs, giving beds the ultimate in a sleek design.
Decorative side panels add flair, finishing the look with a beautiful effect that adds to any bedroom's decor.
FAQs
Can a bed frame ruin a mattress?
A bed frame can contribute significantly to sleep quality by providing support to the mattress and helping maintain its structure. However, when the wrong type of frame is used, it can wear and tear on your mattress, causing it to become lumpy or uneven more quickly than usual.
If your mattress isn't correctly supported, you may experience more aches and pains due to improper alignment. It's important to do your research to find a bed frame that suits your needs, including material preference and lifespan expectations.
With the right frame in place, you'll be able to rest easy knowing that your mattress is adequately taken care of!
What happens if you don't use a bed frame?
Not using a bed frame may seem like a budget-friendly solution in the short term, but it can often lead to headaches down the line. Without proper support, mattresses start to sag and you lose out on many of their comforting benefits.
Not only that, but if your mattress isn't in a frame, you won't be able to have under-the-bed storage solutions or other space-saving amenities. Ultimately, you likely lose more money than you initially save, not to mention having to deal with uncomfortable sleeping conditions night after night.
Do all beds need a headboard?
No, not all beds need a headboard. Some people prefer the look of a bed without a headboard, while others find a headboard to be a necessary part of their bedroom decor.
At CUURA, we believe that a headboard not only enhances the visual appeal of your room but also offers additional comfort. Ultimately, the decision rests on your individual preferences and needs.
CUURA: Crafting Dreamy Sleep Spaces Across Malaysia
Bed frames are an important part of the sleeping set-up since they provide a great focal point in any bedroom and support the mattress, of course.
At CUURA, we believe that a beautiful, comfortable, and well-designed bedroom is essential for restful slumber and overall well-being. That's why we're dedicated to crafting dreamy sleep spaces across Malaysia, providing top-quality bed frames and bedroom furniture in Malaysia that cater to every style, preference, and budget.
Shop with us today and embark on a journey towards a blissful night's sleep in a space that truly reflects your personality and style.