What is the standard size of a bed in Malaysia?
| | |
| --- | --- |
| Bed Sizes | Bed Size Dimensions (cm) |
| Single Size Bed | 90 x 190 cm |
| Super Single Size Bed | 100 x 190 cm |
| Queen Size Bed | 150 x 190 cm |
| King Size Bed | 180 x 190 cm |
Single Size Bed Dimensions (cm) in Malaysia
The Single bed is a popular choice for children's rooms, guest rooms, or smaller bedrooms. It offers a compact yet comfortable sleeping space. The standard single bed size in Malaysia is 90cm x 190cm. This size is suitable for one person, providing sufficient room for a restful sleep. Single beds are versatile and can fit into various room sizes without overwhelming the space.
Super Single Size Bed Dimensions (cm) in Malaysia
For those who desire a little extra sleeping space, the Super single bed is an ideal option. With dimensions of 100 cm x 190 cm, it provides a wider sleeping surface compared to the single bed, while still being suitable for a single occupant. Super single beds are commonly found in guest rooms or teenager's bedrooms, offering additional comfort and room for movement during sleep.
Queen Size Bed Dimensions (cm) in Malaysia
Moving up in size, the Queen bed is a popular choice for couples or individuals who prefer a more spacious sleeping area. With a measurement of 150cm x 190cm, the queen bed offers ample space for a comfortable night's sleep. It provides extra width compared to single and super single beds, allowing couples to share the bed without feeling cramped. Queen beds are versatile and can fit well in most bedrooms, striking a balance between comfort and space utilisation.
King Size Bed Dimensions (cm) in Malaysia
For those who desire the ultimate luxury and space, the King bed is the top choice. The king bed measures 180cm x 190cm, providing an expansive sleeping surface. It is perfect for couples or individuals who prefer an extra room to stretch out during sleep. King beds offer exceptional comfort and are ideal for larger bedrooms. However, it's important to ensure that your bedroom can accommodate the larger dimensions of a king bed without compromising on overall space and ease of movement.
What Are the Different Types of Mattresses?
Spring Mattress: It features a support system composed of metal coils, offering a bouncy and responsive feel.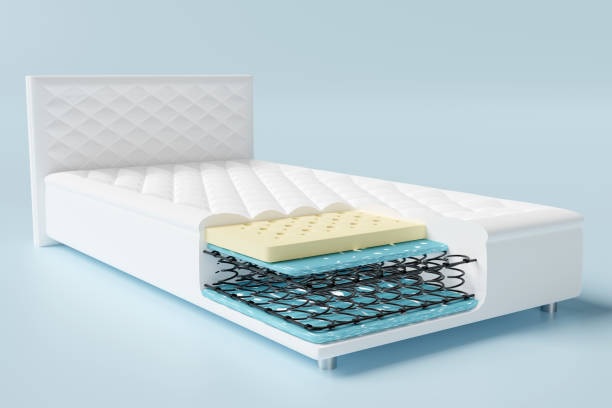 Latex Mattress: Latex is made from natural or synthetic latex materials, providing a resilient and breathable sleeping surface.
Memory Foam Mattress: Memory foam contour to the body's shape, offering excellent pressure relief and personalised support.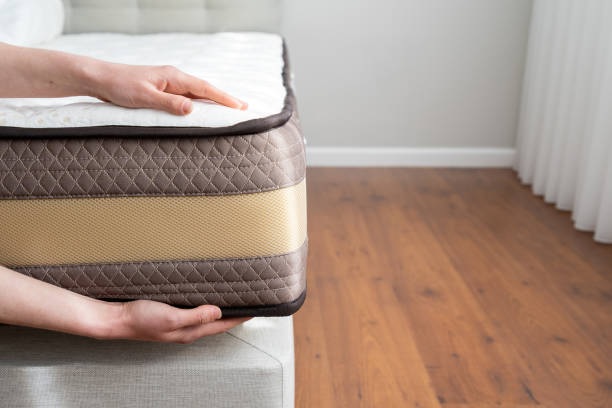 Photo by on brizmaker on istock
Foam Mattress: It utilises various types of foam layers, such as polyurethane or gel foam, for comfortable cushioning and support.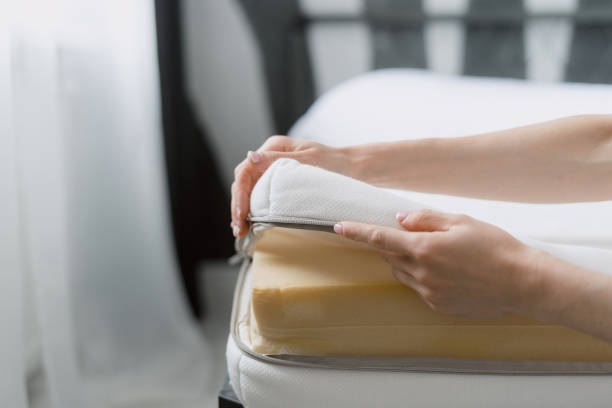 Photo by on brizmaker on istock
Air Mattress: It allows adjustable firmness by inflating or deflating air chambers, making them customisable to individual preferences.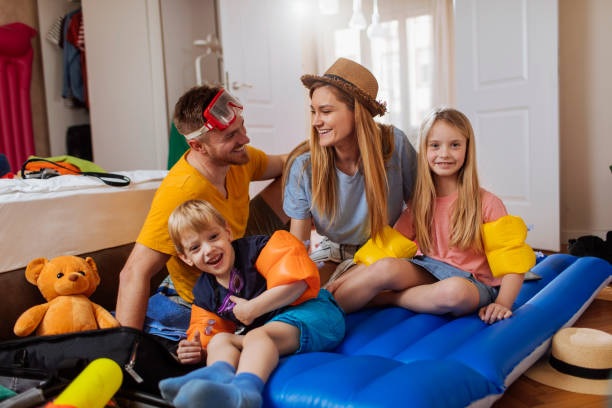 Photo by on mihailomilovanovic on istock
How Big A Bed Should I Choose?
When choosing a bed, it's important to consider your personal preferences and the available space in your bedroom. If you sleep alone and have a smaller room, a single-size bed (90 x 190 cm) would be suitable.
If you have a larger room or sleep with a partner, a queen-size bed (150 x 190 cm) or a king-size bed (180 x 190 cm) would provide more space for comfortable sleep. Remember to measure your room and consider your sleeping habits to find the perfect bed size for you.
How Firm Should My Mattress Be?
When it comes to mattress firmness, it's all about personal preference and comfort. Some people prefer a firm mattress for extra support, while others like a softer feel for more cushioning. If you sleep on your back or stomach, a medium to firm mattress (6-7 on a scale of 1-10) may be suitable for spinal alignment.
However, if you sleep on your side or have pressure points, a softer mattress (4-5 on the firmness scale) can provide better contouring and relieve pressure. Ultimately, choose a mattress that feels comfortable to you and promotes a restful night's sleep.
How To Choose The Right Bed Size in Malaysia?
When choosing the right bed size in Malaysia, there are a few factors to consider. First, assess the available space in your bedroom and measure it accurately. Next, consider your personal sleeping habits and if you sleep alone or with a partner.
Additionally, it's essential to know the size of your bed frame to ensure compatibility with the mattress. Common bed frame sizes in Malaysia include single (100 x 190cm), super single (100 x 210cm), queen (150 x 190cm), and king (180 x 190cm).
Taking these factors into account will help you select the perfect bed size for a comfortable sleep.
How Do I Test A Mattress?

SOMMNI Single Mattress
To test a mattress, start by browsing online furniture stores to research different brands and models. Look for detailed product descriptions and customer reviews to get an idea of comfort and support. Once you've narrowed down your options, visit a showroom to physically test the mattresses by lying down and assessing their comfort, firmness, and overall suitability for your needs.
Summary
In summary, this comprehensive guide has provided valuable insights for individuals considering buying a mattress in Malaysia. From singles to king-size options, there's a bed size for everyone's fancy. It's important to keep in mind factors like room size, personal comfort, and the availability of bed frames and mattresses when picking the perfect size.
By getting clued up on the different bed sizes and what suits you best, you can make smart choices and create cosy sleeping havens that tick all the boxes.